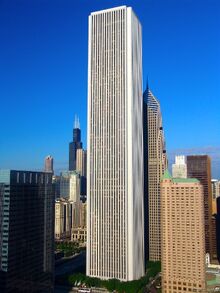 The Aon Center (200 East Randolph Street, formerly Amoco Building) is a modern supertall skyscraper just east of the Chicago Loop, Chicago, Illinois, United States, designed by architect firms Edward Durell Stone and The Perkins and Will partnership, and completed in 1974 as the Standard Oil Building. With 83 floors and a height of 1,136 feet (346 m), it is the fourth-tallest building in Chicago,surpassed in height by Willis Tower, Trump International Hotel and Tower, and Vista Tower.
The building is managed by Jones Lang LaSalle, which is also headquartered in the building. Aon Center formerly housed the world headquarters of Aon and Amoco. Aon still maintains headquarters of its US operations there. The building is also the co-headquarters of Kraft Heinz.
History
[
]
Construction
[
]
The Standard Oil Building was constructed as the headquarters of the Standard Oil Company of Indiana, which had previously been housed at South Michigan Avenue and East 9th Street. When it was completed in 1973, it was the tallest building in Chicago and the fourth-tallest in the world, earning it the nickname "Big Stan". (A year later, the Sears Tower took the title as Chicago's and world's tallest.) The building employs a tubular steel-framed structural system with V-shaped perimeter columns to resist earthquakes, reduce sway, minimize column bending, and maximize column-free space. This construction method was also used for the former World Trade Center towers in New York City.
Refacing
[
]
When completed, it was the world's tallest marble-clad building, sheathed entirely with 43,000 slabs of Italian Carrara marble. The marble used was thinner than previously attempted in cladding a building, which soon proved to be a mistake. On December 25, 1973, during construction a 350-pound marble slab detached from the façade and penetrated the roof of the nearby Prudential Center. In 1985, inspection found numerous cracks and bowing in the marble cladding of the building. To alleviate the problem, stainless steel straps were added to hold the marble in place. Later, from 1990 to 1992, the entire building was refaced with Mount Airy white granite at an estimated cost of over $80 million. Amoco was reluctant to divulge the actual amount, but it was well over half the original price of the building, without adjustment for inflation. Two-thirds of the discarded marble was crushed and used as landscaping decoration at Amoco's refinery in Whiting, Indiana, one-sixth was donated to Governors State University, in University Park, and one-sixth donated to Regalo, a division of Lashcon Inc. Under a grant from the Illinois Department of Rehabilitative Services, Regalo's 25 handicapped workers carved the discarded marble into a variety of specialty items such as corporate gifts and mementos including desk clocks and pen holders. The building's facade somewhat resembles the former World Trade Center due to the upward flow of the columns.
Information was gotten from wikipedia

[

]