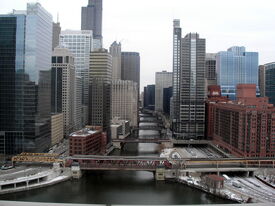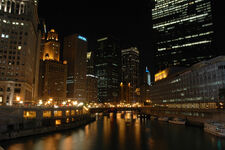 The Chicago River is a river in Chicago, Illinois. It is 156 miles (251 km) long, and it flows through the downtown section of Chicago.
An interesting fact about the river is that every year on St. Patrick's Day, it is dyed green. The Pipefitters Union uses fluorescein dye. In 1962, 100 pounds (45 kg) of dye were used, which lasted for quite some time. But in modern times the amount of dye used has been decreased to about 40 pounds (18 kg).
Geography
Edit
The river's northernmost branches are called the West Fork, the East Fork (Skokie River) and the Middle Fork, which join into the North Branch at Morton Grove. The North Branch of the river meets up with the Main Branch of the Chicago River at Kinzie Street in Chicago. The Main Branch of the river flows west from Lake Michigan, past the Wrigley Building and the Merchandise Mart.
During the 1770s, Jean Baptiste Point du Sable built his farm on the northern bank of the river, which made it the first non-Native American settlement of Chicago. In the beginning of the 19th Century, Fort Dearborn was built on the southern bank of the river.
In 1915, an excurison boat, The Eastland, carrying mostly Czech immigrants from Europe, rolled over at the Clark Street bridge dock, accounting for 812 deaths. To make way for a new railroad teminal in 1928, the South Branch of the Chicago River between Polk and 18th streets was straightened and moved about 1/4 miles (400 m) west.
In 1990, the flow of the river was reversed from north (to Lake Michigan) to south (towards the Mississippi River basin) to keep Chicago and Lake Michigan clean of sanitary waste.
The Chicago River has 45 movable bridges spanning across it, which at one time was 52 bridges. The several types of bridges found here are: trunnion bascule, scherzer rolling lift, swing bridges and vertical lift bridges.
The following bascule bridges cross the river (and its south branch) into the Chicago Loop:
Harrison Street Bridge (1960)
Congress Parkway Bridge (1954)
Van Buren Street Bridge (1956)
Jackson Boulevard Bridge (1916)
Adams Street Bridge (1927)
Monroe Street Bridge (1919)
Madison Street Bridge (1922)
Washington Street Bridge (1913)
Randolph Street Bridge (1984)
Lake Street Bridge (1916)

Franklin Street Bridge (1920)
Wells Street Bridge (1922)
La Salle Street Bridge (1928)
Clark Street Bridge (1929)
Dearborn Street Bridge (1963)
State Street Bridge (1949)
Wabash Avenue Bridge (1930)
Michigan Avenue Bridge (1920)
Columbus Drive Bridge (1982)
Lake Shore Drive Bridge (1937)
Community content is available under
CC-BY-SA
unless otherwise noted.