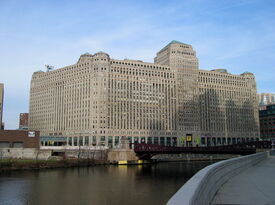 The Merchandise Mart, which is located along theChicago River in Chicago, Illinois, is the second largest commercial building in the world (next to the Aalsmeer Flower Auction in the Netherlands), and was constructed in the Art Deco style. Its total area is over 4 million square feet of floor space.
The building originally houses Marshall Fields wholesale showrooms and manufacturing facilities, also including the showrooms of retail tenants. The Merchandise Mart boasted excellent shipping and transport facilities, including various restaurants, parking spaces, visitor lounges, a barbershop, and postal and telegraph offices.
History
[
]
The Chicago Merchandise Mart was opened in 1930 by Marshall Field & Co. when the Chicago and North Western Railway had abandoned the land site on which the Wells Street Station was located on in order to move to the newer North Western Passenger Terminal in 1911.
The building had been designed by the architectural firm of Graham, Anderson, Probst and White. After the construction on the building was finished, the total cost was reported to be $32 and $38 million in 1930.
When the Field's buisiness was in decline, it was sold to Joseph P. Kennedy, father of the U.S. President John F. Kennedy. It was owned by the Kennedy family until 1998, when it was sold to the Vornado Realty Trust.
In the Chicago Transit Authority's L system, The Merchandise Mart has its own station, which is served by both the Brown and Purple Lines. An interesting is that the station's turnstiles are actually located within the building, while the station platforms themselves are on the east side of the building.
References
[
]
(October 2004) Edited by James R. Grossman, Ann Durkin Keating, Janice L. Reiff. The Encyclopedia of Chicago. University of Chicago Press. ISBN 0226310159.
External links
[
]