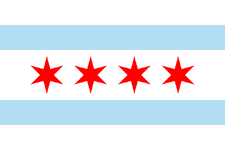 The municipal flag of Chicago consists of two blue horizontal stripes on a field of white, each stripe one-sixth the height of the full flag, and placed slightly less than one-sixth of the way from the top or bottom, respectively. Between the two blue stripes are four red, six-pointed stars arranged in a horizontal row.
Symbolism
[
]
Stripes
[
]
The three white stripes of the flag represent (from top to bottom) the North, West and South sides of the city; the top blue stripe represents Lake Michigan and the North Branch of the Chicago River; the bottom blue stripe represents the South Branch of the Chicago River and the Great Canal.
Stars
[
]
The four red stars on the center white stripe (from left to right) represent:
On the

Fort Dearborn Massacre

star (added in 1939): transportation, labor, commerce, finance, populousness, and salubrity.
On the

Great Chicago Fire

star (on the 1917 flag): religion, education, esthetics, justice, beneficence, and civic pride.
The points on the

World Columbian Exposition

star (on the 1917 flag) represent political entities Chicago belonged to: France 1693, Great Britain 1763, Virginia 1778, the Northwest Territory 1798, Indiana Territory 1802, Illinois 1818.
The Century of Progress Exposition star (added in 1933: World's Third Largest City, City's Latin Motto (Urbs in horto - City in a garden), City's "I Will" Motto, Great Central Marketplace, Wonder City, Convention City.