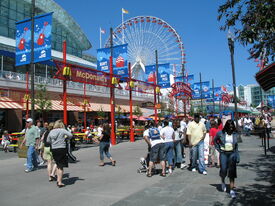 Navy Pier is a 3,000 foot long pier on the Chicago shoreline of Lake Michigan. Built in 1916, the pier was originally designated Municipal Pier #2 (Municipal Pier #1 was never built). The pier was constructed to accommodate package freight vessels, excursion steamers, warehouses and public entertainment, and had its own streetcar.
The rise of motor vehicles led to the pier's disuse in the 1930s, and during World War II, the U.S. Navy began using the pier for training. At this time, its name was changed to Navy Pier. When the war ended, the pier was sold to the University of Illinois, which used the facility beginning in 1946 for a two-year undergraduate program to educate returning veterans. [1] In 1965, the University moved to the Chicago Circle campus, and the pier again fell into disuse.
In 1976, Navy Pier began its third life as an area for public exhibits, when the East Buildings (furthest into Lake Michigan) were opened as exhibition halls. Special events including music and arts festivals began to draw crowds to the pier despite its aging infrastructure. Major renovation and construction followed in the 1990s, resulting in the pier's current layout with restaurants, shops, museums, ballrooms, concert and exhibition halls, auditoriums, and a 150-foot-tall Ferris wheel. The pier continues to be used as an embarkation point for tour and excursion boats. Navy Pier is the top tourist attraction in Illinois. [2]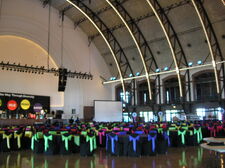 Navy Pier also hosts an IMAX theater, the Chicago Shakespeare Theater, the Chicago Children's Museum and the Smith Museum of Stained Glass.
On January 13, 2006, the Metropolitan Pier and Exposition Authority, the government agency which runs Navy Pier, released plans for a major renovation of the pier which would include a monorail, a larger Ferris wheel, and a water park with a Great Lakes theme. The plan would include nearly double the current parking and a replacement theater with a greater capacity. At the time of the announcement, no price tag or date was announced.
References
[
]
External links
[
]