Jurassic World: Dominion Dominates Fandom Wikis - The Loop
Play Sound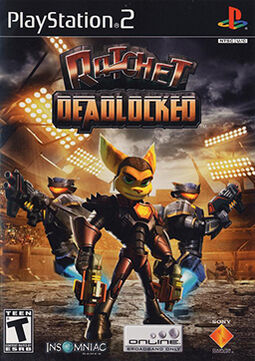 Ratchet: Deadlocked (known as Ratchet: Gladiator in Europe, Australia and South Africa) is a 2005 platformer in the Ratchet & Clank series, developed by Insomniac Games and published by Sony Computer Entertainment for the PlayStation 2.
The game's story begins as Ratchet, Clank, and Al are abducted and forced to compete in "DreadZone", a violent game show in which heroes are forced to kill each other. Ratchet is given a "DeadLock" collar, which will explode if he becomes uncooperative or boring. The three must find a way to deactivate the collars and free the other heroes being held prisoner. Deadlocked was the last Ratchet & Clank game to be rated T, despite the introduction of the E10+ rating earlier that year. It's also the last main series Ratchet & Clank game to be released on PlayStation 2 before its discontinuation in 2013.
The gameplay is similar to that of other games in the series, but focuses more on shooter aspects rather than platforming. The player, as Ratchet, fights in DreadZone tournaments across the "Shadow Sector" in the "Solana" Galaxy, with a large variety of weapons. This game was the first in the series to feature cooperative gameplay in a story mode, and also includes an online multiplayer mode. Some vehicles return from previous games, and new ones are introduced. For the first time, Clank (in his typical form) was not a playable character.
Deadlocked was met with generally favorable reviews, although slightly lower than its predecessors, with some criticism being aimed at its darker tone, repetitive gameplay and level design, and the removal of Clank as a playable character.