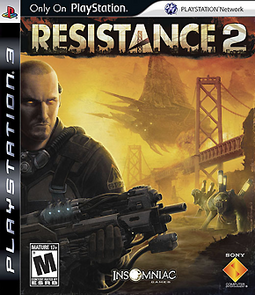 Resistance 2 is a 2008 science fiction first-person shooter video game developed by Insomniac Games and published by Sony Computer Entertainment for the PlayStation 3. The game was released in North America on November 4, 2008, in Australia on November 27, 2008, and in Europe on the following day. Resistance 2 is the sequel to the best-selling PlayStation 3 launch title Resistance: Fall of Man.
Resistance 2 sees protagonist Nathan Hale travel to the United States in order to once again battle the Chimera, who have launched a full-scale invasion of both the east and west coasts. In this game, Hale is part of an elite force of soldiers called "The Sentinels", who, like him, are infected with the Chimeran virus, and must keep it under control through regular application of inhibitors.
Resistance 2 was released to generally positive reviews, with praise for its visuals, multiplayer modes and scale of the single-player campaign. However, there was some criticism of the story and aspects of the campaign, while the game's overall changes from its predecessors drew polarized reactions from critics and fans. A sequel, Resistance 3, was released in 2011. The game, along with its predecessor and sequel, had its online servers shut down on April 8, 2014. Digital versions of the first two games were released after the servers' closure, exclusively in Europe.