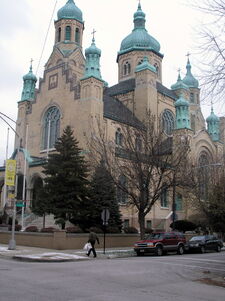 Ukrainian Village is a Chicago neighborhood located within the West Town community area southwest of Wicker Park. Its boundaries are Division St (1200 N) to the north, Chicago Ave. (800 N) to the south, Western Ave. (2400 W) to the west, and Damen Ave. (2000 W) to the east. With the construction of an elevated train line along Paulina Ave. (1700 W), which was later demolished in 1964, by 1895 in progress, the settlement of the neighborhood was largely started.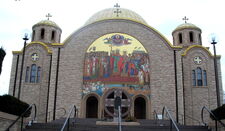 Within the past decades, the Ukrainian Village neighbourhood has been a safe middle-class neighborhood, populated by older citizens of Eastern European ethnicity, namely Ukrainians. In the neighbourhood there are some Ukrainian-speaking grocery stores which sell Ukrainian products as well as other Eastern European products, the Ukrainian Selfreliance Bank, the Modern Ukrainian Art Institute, and many Orthodox churches, namely the Holy Trinity Russian Orthodox Cathedral, designed by Louis Sullivan, and others.
In 2002, part of the Ukrainian Village was designated a Chicago Landmark District on December 4, 2002, the first one ever designated as a landmark district in Chicago .
External links
Edit
Official City of Chicago West Town Community Map